Awards
ALLPLAN is regularly recognized as a renowned provider of BIM software through the awards and certificates we receive. Each award confirms the quality standard that ALLPLAN sets itself year after year in order to meet the challenges of modern building with ever-better solutions.
ALLPLAN Celebrated
Each award we receive confirms our particularly high quality standards, and motivates us to always give our best for our customers. Find out more about some of our most important industry awards here.
ALLPLAN honored for the third time by more than 1,600 architects
Allplan has been named Architects' Darling® for the third time, following wins in 2012 and 2014. The coveted golden phoenix statue was awarded to the Munich-based BIM experts and providers of software solutions for architects, engineers and facility management at a gala event on 10 November 2016, where Allplan was named favorite manufacturer in the "Architect Software" category. The award is the result of a large-scale survey conducted by market research company Heinze.
"We are delighted to be named Architects' Darling for the third time," says Michael Koid, managing director of Allplan GmbH. "The vote from architects backs up our claim to offer our customers the best solutions for simplifying day-to-day work on exciting architecture projects, giving them a decisive competitive edge. We therefore contribute to the creation of better buildings."
Once a year, architects and designers are given the opportunity to vote for and rate their favorite manufacturers. Heinze GmbH presented the Architects' Darling® Awards for the sixth time in Celle, Lower Saxony. Almost 1,600 architects and designers chose the winners in 24 product areas and 7 cross-marketing disciplines.
ALLPLAN wins digital building transition award for its BIM platform BIM+ in France
Allplan has won the Digital Building Transition Award in the "collaborative or content sharing tools" category for its BIM platform bim+. The prize was awarded to BIM experts and providers of software solutions for architects, engineers and facility managers at the first annual Digital Building Transition Awards held in Paris, France, on November 29.
The jury was convinced by Allplan's openBIM approach, which ensures collaboration between all participants in a BIM project in real time. Allplan's openBIM approach enables all those involved to share documents, templates and attributes in a single, secure environment, according to the experts. Further nominees in the "collaborative or content sharing tools" category included Autodesk's A 360 and Gespro's BIMPRO as well as Edifycad.
"We are very pleased to receive this award by the French Government", says Michael Koid, managing director of Allplan GmbH. "With the help of bim, models and data from a wide variety of systems can be managed centrally, making coordination across offices, disciplines and software boundaries much easier than ever."
About the award
Established by the Government of France, the Digital Transition Plan for Buildings (PTNB) awards recognize software innovations that help building design and construction professionals' transition to and work within a BIM workflow. The objective of the awards is to highlight the digital tools that allow all building professionals to work on digital models using BIM. 30 of 93 entries were nominated. The jury then selected 11 winners in 10 categories. Most of the participating software programs will be listed on the French Government's PTNB website as a guide for design and construction professionals to consider the best BIM software tools available on the market.
In addition to bim+, three other Nemetschek brands won the Digital Building Transition Award: Graphisoft's Archicad 20, Scia Engineer and the Solibri Model Checker.
Allplan 2018 quantity take of accuracy certified for twelfth year by TÜV Süd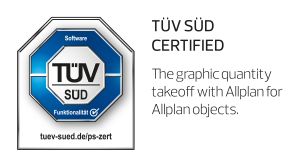 For the twelfth time in a row, TÜV SÜD has awarded the current version of Allplan 2018 with the certification mark for software quality and functionality. The certificate proves the software's high level of performance and compliance with applicable standards for the graphic quantity takeoff of selected building groups with the TAI (Tendering Awarding Invoicing) software NEVARIS.
"TÜV SÜD has confirmed for the twelfth time in a row that Allplan is a reliable solution for cost-effective planning in connection with NEVARIS. We are very proud that ALLPLAN is the only company in the construction industry that has a TÜV certificate for software functionality," says Kevin Lea, Senior Vice President of Product Management at ALLPLAN.
With Allplan and the cost management TAI software NEVARIS, architects and engineers are able to carry out sound cost analysis and make reliable budget statements. The smooth data exchange between the software solutions allows for graphic quantity determination.
Standard-compliant, correct and reliable
TÜV SÜD tested the functionality and quality of the graphic quantity takeoff based on a catalog of requirements, which takes into consideration applicable standards such as the German Construction Contract Procedures (VOB) and standards. "During the testing, we selected and examined selected building groups, such as reinforced concrete, masonry, windows and finishing surfaces," says Siegfried Muckenschnabl, Product Specialist at TÜV SÜD.
Are the tested functions VOB-compliant and correctly indicated? Is the software development process completely documented for the connection of the building groups? How does quality control occur? Allplan 2018 successfully passed all tests. Siegfried Muckenschnabl explains: "All the requirements for functionality and quality were met by both the NEVARIS and the Allplan 2018 building groups and construction cost planning."
CAFM software Allplan Allfa receives another test sticker according to GEFMA guideline 444
The performance of the CAFM solution Allplan Allfa again convinced the inspectors of the German Facility Management Association (GEFMA): The software from Allplan complies with the criteria of the association and has once again successfully qualified for the GEFMA guideline 444.
"For the fourth time in a row, GEFMA has confirmed that Allplan Allfa is an effective tool for building management," says Marion Gran, Head of Product Management Facility Management, Allplan GmbH. "The high scalability and modular design of our CAFM software have once again proven to be a strength: Allplan Allfa is the solution for modern infrastructural and technical facility management for the entire life cycle of buildings and facilities."
About the GEFMA and the certification
The German Facility Management Association (GEFMA e.V.) sees itself as the German decision-making network in Facility Management. The aim of the association, which has more than 850 members, is to promote awareness and further develop facility management. In order to facilitate the selection among the numerous CAFM solutions on the market, GEFMA has launched a certification process. It gives users an objective assessment tool.

On the basis of the guideline GEFMA 444, the certification procedure comprises 14 criteria catalogs (basic catalog, area, maintenance, cleaning, reservation, inventory, locking system, moving, leasing and environmental protection management, energy controlling as well as safety and occupational safety). The certification is valid for two years.
About Allplan Allfa
Allplan Allfa is an integrated software solution for all areas of infrastructural and technical facility management (FM). The solution is aimed at facility managers from industry, commerce, banks, insurance companies and the public sector, who want to efficiently use and manage land and reduce the associated costs.
Allplan receives IFC2x3 CV2.0 certification from buildingSMART for excellent IFC-Export
The international association buildingSMART has extensively tested and recertified the BIM solution Nemetschek Allplan with respect to the IFC export – and hereby recognizes the company's support of the Open BIM process. Thus Allplan is one of four products in the AEC market, which received this award at the international buildingSMART meeting in Waltham, USA, on March 12, 2013.

Aleš Široký, Technical Director at Nemetschek Allplan said: "This certification is an important step towards improving open BIM collaboration among our customers and their partners. Nemetschek Allplan is committed to IFC as the industry standard and our developers cooperate with other industry players so that we stay at the leading edge of open BIM exchange."

The Industry Foundation Classes (IFC) are an open standard for digital descriptions of building models. Shown are the logical building structures (e.g. Window-Opening-Wall-Story-Building), associated properties (attributes), and optional geometry. This allows, among other things the interchange of complex 3D design data with components and descriptive attributes between different construction software systems.

Building Smart is an international, cross-industry alliance dedicated to improving the efficiency and cost-effectiveness of the design, construction and facilities management industries, with an emphasis on information sharing and BIM. It has developed the open IFC standard (Industry Foundation Classes), also known as the buildingSMART Data Model.

In 2010, buildingSMART relaunched its certification scheme, introducing a clear distinction between import and export functions and improving quality checks. The scheme uses a web application, the Global Testing and Documentation Server (GTDS), which provides automated online testing of IFC files, tools for documentation of manual tests and is a place where candidates for certification can run tests to ascertain compliance. The database of GTDS stores all test results and provides test reports. Certification 2.0 by buildingSMART is open to all software developers who are members of buildingSMART.

Rasso Steinmann, who leads buildingSMART Implementer Support Group, said: "Our certification is a stringent process and buildingSMART congratulates the successful vendors. The number of test actions to date is over 1,400 – an indication of how seriously we take the process."

In addition to Allplan, the products ArchiCAD, Revit Architecture and Scia Engineer were also tested and certified. This means, three out of four successfully tested software solutions are from the Nemetschek AG. A clear commitment of the Nemetschek Group to Open BIM strategy.

*In a survey to 1,006 Allplan customers and prospects, we asked "Would you recommend Allplan to others?" and 96% answered "Yes". Survey carried out in October and November 2016.
---
Case Study Package Architecture -
Get more than 13 interesting Case Studies in one package
See from the customer's point of view how Allplan Architecture was used in different challenging customer projects and contributed tremendously to their success.
Discover new challenges and complex problems in customer projects solved with modern CAD Software. See for yourself how solutions from ALLPLAN enabled the realisation of different exclusive projects.
Your advantages at a glance:
More than 13 exclusive projects with challenges and suitable approaches to the right solution
All project challenges and their approach from the customer's point of view
Case Studies in pdf format
Exclusive insights into customer projects using CAD Software