Allplan History
From CAD Pioneer to BIM Platform
In the 1960s, when Professor Nemetschek began looking for solutions to make his workday easier, he laid the groundwork for the CAD software that would revolutionize our entire business. Read more to find out what has propelled us ever since.
ALLPLAN – Milestones of a Success Story
The Pinakothek der Moderne in Munich, Germany; the Centre Pompidou in Metz, France; the Gotthard Base Tunnel in Switzerland... Allplan software is being used wherever creativity is sought and demanding construction projects are planned, built, and used. Back in 1963, Professor Nemetschek founded the "Building Sector Engineering Office" in Munich and occupied himself intensively to develop a solution to make his workday easier. From the beginning, the focus has been on the concept of virtual building models, the foundation of Building Information Modeling (BIM).

The pioneering spirit of our founder is in our genes and remains the engine behind our work to this day. Allplan develops solutions and innovations for architects and engineers, planners and designers, contractors and facility managers. That way you can focus on what's most important: doing your job. Everything else is our job!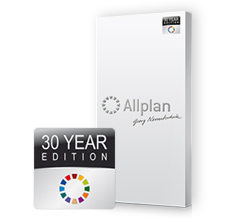 2014
30 years of "Total Quality"

The foundation stone for the BIM solution Allplan was laid thirty years ago. Help us to celebrate this anniversary and benefit from the exclusive Allplan 30 Year Edition.

We can look back proudly on 30 years of experience in the area of software for the AEC industry and Building Information Modeling (BIM). 1984 was a turning point in the history of Allplan's development. We want to celebrate the existence of the software Allplan for 30 years together with you and therefore prepared a particularly attractive, future-oriented anniversary package: The Allplan 30 Year Edition. 
2013
Allplan now comes with Unicode and drives increasing internationalization of the company
2012
The Munich-based Nemetschek Allplan Group, comprising of the technology company Nemetschek Allplan Systems GmbH and its local distributors, is a leading provider of CAD software for planning, building, and management of buildings. More than 400 employees in nine countries work daily to develop innovative solutions for our customers. Our component-based software is available worldwide in 18 languages. Allplan 2013 hits the market.
2011
Allplan Connect, the international service portal for Allplan users, goes online. Allplan 2012.
2010
Allplan 2011
2009
Allplan Campus, the Allplan web based portal for teachers, professors, and students goes live under
campus.allplan.com. Allplan 2009 is released.
2008
Nemetschek Allplan GmbH is founded as a 100% subsidiary of Nemetschek AG and operates in the core area of development and sales of CAD, AVA, and facility management software. In parallel, Nemetschek AG develops a new corporate identity as a finance holding company and positions itself as an international firm with ten strong brands.
2006
Allplan 2006
2003
Allplan 2004
2002
Allplan 2003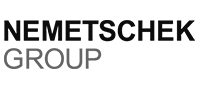 1999
Nemetschek AG goes public, and has since been consistently expanding within its leading market position. For Nemetschek AG, the years from 1998 to 2007 are characterized by expansion, acquisitions, and finally a consolidation phase.
1997
With the "Object-oriented Product model Engineering Network" (O.P.E.N.), Nemetschek introduces a database-centered platform, now known as "Building Information Modeling."
1996
Allplan V12
1994
Allright, an AVA and Expense Management solution that interfaces with Allplan, is introduced. Allplan V10 hits the shelves.
1992
Allplan V7
1990
Nemetschek Programmsystem GmbH employs 150 employees and is the leading systems vendor of CAD software in the building industry. The company follows the motto "Think of the Whole." Allplan V6 enters the market.
1989
Allplan V5
1988-1992
The company's expansion necessitates opening additional branch offices in Germany as well as several subsidiaries elsewhere in Europe. Sales through system partners, trade partners, and dealers are expanded.
1987
Allplan V3
1984
The first version of the Allplan CAD system for architects and engineers (Allplan V1) hits the market − a major relief for an entire generation.
1983
Nemetschek expands internationally. In collaboration with authorized dealers, Nemetschek Programmsystem GmbH begins to distribute its products in Austria and Switzerland.
1981
Nemetschek Programmsystem GmbH is founded, taking over all sales of Nemetschek's software.
1980
Nemetschek puts out a software package to support the integrated calculation and construction of standard components for solid construction. Thanks to the software, computer-aided engineering (CAE) is possible on a computer for the first time.
1968
The Engineering Office is one of the first companies in the construction sector to use computers in buildings' planning and construction and to develop software for engineers, at first only for personal use.
1963
Georg Nemetschek, licensed engineer, founds "Ingenieurbüro für das Bauwesen" (the "Engineering Office for the Building Industry") in Munich.
You can also find more information on ALLPLAN's history under: