ARE YOU STILL WORKING WITH AN OLDER OPERATING SYSTEM?
Then it's time for a change. Starting January 14, 2020, Windows 7 will no longer be eligible for security updates, updates, support, and technical resources. Companies that continue to use Windows 7 after that date are taking significant risks. ALLPLAN has conducted an interview with Sven Langenfeld, Senior Commercial Category Lead DACH at Microsoft, on this topic. Read here why Microsoft is discontinuing support for Windows 7, what the risks are for users of the old operating system and why it is recommended to switch to Windows 10.
Interview with Microsoft about the End of Support of Windows 7
Sven Langenfeld, Senior Commercial Category Lead DACH at Microsoft
The Windows 7 product lifecycle is now nearing its end. What does this last phase look like for the users of the operating system?
Langenfeld: Every version of Windows has a clearly defined life cycle. The basic support of Windows 7 ended more than four years ago and will last for five years according to our LIFECYCLE GUIDELINES. Since then, users have received all major security updates, but no new functionality. On January 14, 2020, extended support for Windows 7 will expire. This means that for all customers with Windows 7 PCs, there will be no more security updates from Microsoft from that date. Although we offer long lead times for upgrades, we understand that corporate customers may need more time to upgrade. That's why we support these enterprise customers in switching through targeted offerings: These include services such as FastTrack to accelerate migrations, desktop virtualization via Windows Virtual Desktop - with enhanced security updates for three years - or the ability to purchase enhanced security updates separately for up to three years annually.
In your opinion, what risks will Windows 7 users be exposed to in the future?
Langenfeld: Without security updates, the danger of cyber-attacks increases. Every company today must assume that it will be attacked: Last year alone, companies in Europe were confronted with over 80 million cyber-attacks. 70 percent of German companies are already victims of attacks from the Internet. Modern malware is polymorphic, it changes its form when transferred to a device - and is often difficult to detect by conventional antivirus programs. In addition, not only detection, but also immediate and independent reaction to security attacks is becoming increasingly important. Modern security requirements require modern tools. Without any security updates, systems are technically overburdened and thus take a high risk.
What does data protection look like with a modern operating system like Windows 10?
Langenfeld: Data protection has top priority for Microsoft. Microsoft is committed to protecting its customers' privacy and providing the tools and resources that allow customers to maintain control over their data. To do this, Microsoft ensures that customers can make informed decisions at all times. For example, we have established six privacy principles that apply worldwide. In this way, we ensure security and traceability for our customers when using our products.
If you decide to upgrade e.g. to Windows 10, will you have to change again in a few years?
Langenfeld: With Windows 10, customers are not only more up-to-date and secure, but also more flexible. To ensure that Windows 10 is always up to date and secure, we have introduced Windows-as-a-Service: Customers receive feature updates twice a year and quality updates once a month, which contain security patches as well as other updates - for example for drivers. Servicing Channels give companies the flexibility to choose when to deploy new features. Each Windows 10 feature update receives quality updates for a period of 18 months from the date of release. Windows 10 Enterprise LTSB is a separate Long-Term Servicing Channel version. Each version is supported for a total of 10 years (five years standard support and five years extended support). Detailed information can be found in the information sheet on the Windows life cycle.
What other aspects do you see in switching to a newer operating system?
Langenfeld: Today, modern technology is also a driving force for a new working culture. In times of new work, users need devices that can exploit the potential of digitization: For example, modern collaboration services that enable cross-device teamwork. Or multi-factor authentication including biometric procedures, which not only makes logging on to a company device more secure, but also easier. Or use digital pen input, which enables productive working methods on a digital whiteboard. This requires a modern platform that focuses on the needs of users and enables companies to benefit from the advantages of digital transformation under the premise of maximum security.
Switch to Windows 10 now with ALLPLAN and save money
The change of the operating system is often accompanied by a renewal of the existing IT equipment. Hardware and software must be well coordinated to ensure smooth operation. 
We have the solution: ALLPLAN's first-aid package will bring your hardware and software up to date at a particularly favorable price and prepare you for future challenges.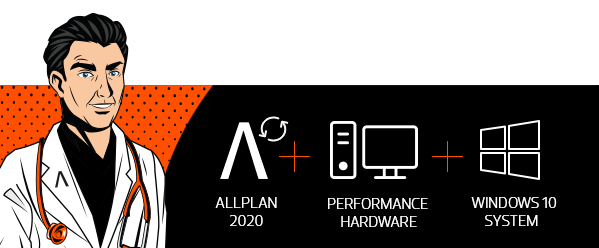 ALLPLAN's first aid package includes:
The latest Allplan version 2020 including Serviceplus contract
Modern hardware from a trustworthy IT partner
The current operating system Windows 10


The most important features of Allplan 2020:
Visual Scripting - the alternative to programming
News for modelling stairs, roofs and steel structures
Static calculation of bridges
Efficient working with point clouds
Impressive panorama renderings