Sneak Preview
Unlock the Power
of Performance
with Allplan 2021
The most powerful BIM solution
for your success
Structural Analysis
Convert models in no time with SCIA AUTOCONVERTER LIGHT
Would you like to convert your geometric building model into an analytical model in just a few steps?
Watch this video to see how, using Allplan Bimplus and SCIA AutoConverter Light, structural analysis can be easily and quickly integrated into your workflow (for Structural Engineers only with Serviceplus contract or Subscription).

Want to learn more?
Check out our webinar where we will introduce the new structural analysis model generation workflow delivered by SCIA AutoConverter Light included with Serviceplus contract or Subscription for our valued Structural Engineer clients.
Vote now!
Watch the three videos with practical examples of the upcoming Allplan 2021 version and give us feedback: Which video did you like best?
Benefit from the new opportunities
of Allplan 2021 and Serviceplus for your office
Performance with Allplan
Software performance with Allplan means so much more than just faster processing: Performance stands for more fun at work, being able to carry out larger and more complex projects with a higher level of detail, increasing your output, ensuring the consistency of your data, collaborating better with project partners and using more efficient workflows. This opens up new opportunities for more success for your office.
With ALLPLAN's cloud-based solution Allplan Bimplus, you can optimize collaboration with your project partners, through efficient workflows, enabling you to maximize the benefits of the BIM method. Allplan Bimplus offers structural engineers with Allplan and Serviceplus contract revolutionary new functions for the smooth integration of structural analysis in a managed workflow. Watch this video interview to find out what the upcoming version Allplan 2021 will have in store for you from October 2020.
---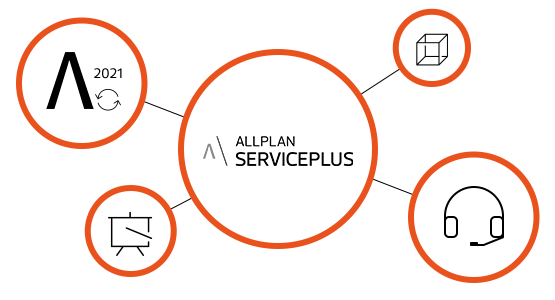 Not a Serviceplus customer yet?
With Serviceplus you receive access to expert technical support and automatically
secure your Allplan 2021 license coming in October.
This year Allplan is going to add valuable product functionality at no additional cost,
enabling you access to true cloud-based BIM Workflow solutions. For structural engineers Allplan 2021
offers revolutionary new functionality for the smooth integration of structural analysis into a BIM workflow.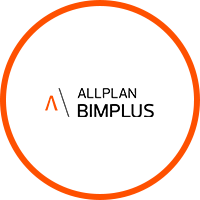 Allplan Bimplus
You are not yet using the open BIM collaboration platform Allplan Bimplus? Register now and benefit from the many advantages:
Efficient model-based control of BIM projects
Integration of data from different systems
Access to your project data everywhere and at any time

Are you interested in Allplan?
Would you like to find out more about the BIM solutions provided by ALLPLAN and current offers?
Thanks to their many years of experience and industry competence, our direct sales experts and our sales partners are the perfect partner for your personal consultation and professional support.