BUILD THE FUTURE
ALLPLAN Global Summit
Watch our teaser video:
Available until 25th of Nov.
ALLPLAN supports architects, engineers, precast planners, and contractors to future-proof their position with regard to the digital transformation of the AEC industry. ALLPLAN addresses the entire "Design to Build" process from the first concept to final detailed design for the construction site and for prefabrication.
At this free of charge virtual "BUILD THE FUTURE - ALLPLAN Global Summit" on demand you will learn from experienced industry experts where the AEC journey is heading, about ALLPLAN's single platform strategy and how the latest version Allplan 2022 supports you in your everyday work.
Learn about future trends from industry leading AEC experts
Up skill on the very latest Allplan release
See best practice examples from real customer projects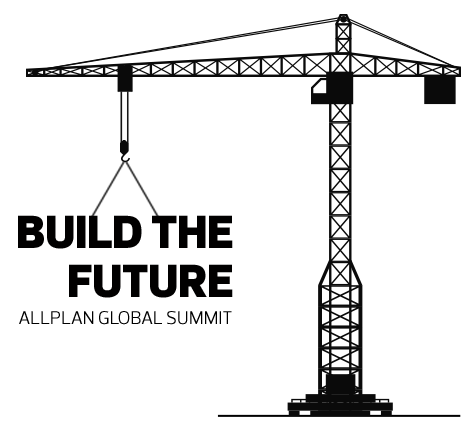 Buildability at its best
Buildability for construction implementation is increasingly playing a central role. This practical approach means that a structure not only looks good in the 3D model but can also be built efficiently. That is, without wasting materials, time or money. Amongst other things, this requires open, collaborative workflows throughout the project from design to build. The version Allplan 2022 supports this process by seamlessly meshing the workflows of all design stakeholders in a single platform.
Auditorium:
8 presentations
Learn about industry trends, ALLPLAN's vision, strategy and positioning.
Find out how AEC challenges can be solved today and in the future.
Break-out Sessions
31 sessions in 4 streams
Gain a product overview and learn what ALLPLAN's solutions can do to solve
your challenges today and prepare you for the demands of building the future.
---
Don't miss this unique opportunity.
Join us from the start and get prepared for the future!
Available until 25th of Nov.
THE EVENT IN NUMBERS
40
Sessions:
40 unique sessions
36
Speakers:
36 speakers from 9 countries
3
Customer projects:
3 outstanding projects
Dr. Detlef Schneider, CEO ALLPLAN:
"Enabling our customers to optimize their projects for efficiency from inception to construction is the focus of our 'Design to Build' corporate strategy."
Kevin Lea, Senior Vice President Product Management at ALLPLAN:
"At ALLPLAN, we support 'data-driven decision making', as it helps the industry to make more informed decisions and deliver better building outcomes."