Allplan Engineering Civil
With Allplan Engineering Civil 2020, we offer you a future-oriented BIM solution for civil engineers. The software is characterized by high performance, cross-team collaboration, and greater efficiency and productivity in day-to-day work. The openBIM approach supports smooth, interdisciplinary cooperation with project partners. There are various improvements for engineers, including views and sections, reinforcement and country-specific adaptations. There are also new features in the area of steel construction and structural analysis for bridge construction.
All advantages of Allplan Engineering Civil at a glance
BIM-aided design
Allplan enables you to first build virtually, then in reality, alerting you to errors and conflicts early in the design stage.
Seamless design process
Allplan supports the entire design process in a single system, from the initial draft to the final general arrangement and reinforcement drawings.
CAD and structural analysis
Structural models, structural-analysis models, and surveying results can be exchanged with SCIA Engineer and other systems.
Diverse projects
Allplan is suitable for all types of construction projects - from small to highly complex - including civil and structural engineering projects.
Modeling without limits
The powerful Parasolid modeling kernel from Siemens gives you greater freedom when creating 3D models while also increasing precision and performance.
Reinforcement design at the highest level
An integrated 3D model - complete with reinforcement, fixtures, and tendons - provides the highest possible design reliability, detail, and clarity.
Associative views and sections
All changes are carried out once and then automatically transferred to all the drawings. This reduces errors and saves you time.
Impressive design documents
The powerful layout and design tools enable you to create high-quality design documents that make the value of your work clearly visible.
Smooth data exchange
To ensure smooth reliable data exchange with planning partners, the software includes high-quality interfaces with all conventional exchange formats, including DWG, DXF, DGN, IFC4, and PDF.
Optimized collaboration
Allplan allows you to collaborate on a project within an office, or across multiple locations. Used in concert with cloud-based Bimplus and Allplan Share, the promise of multidisciplinary coordination using BIM models becomes reality.
Rapid productivity
A modern and intuitive user interface facilitates role and task-based modes, enabling you to rapidly learn and become more productive.
4K/UHD
Allplan is ideal for use on powerful, high-resolution monitors (4K/UHD monitors with 3840 x 2160 pixels and more).
---
View all features delivered over the past 5 years
Allplan 2016-2020 – all of the features of Allplan Engineering at a glance
Options for Allplan Engineering Civil
ALLPLAN Services
Allplan Support: As a member of our Allplan Serviceplus network, you always work with the latest version and also efficiently exploit all the options of your software. Wether you are an administrator, architect, office manager or managing director, our support teams respond to your questions efficiently, comprehensively and professionally.
References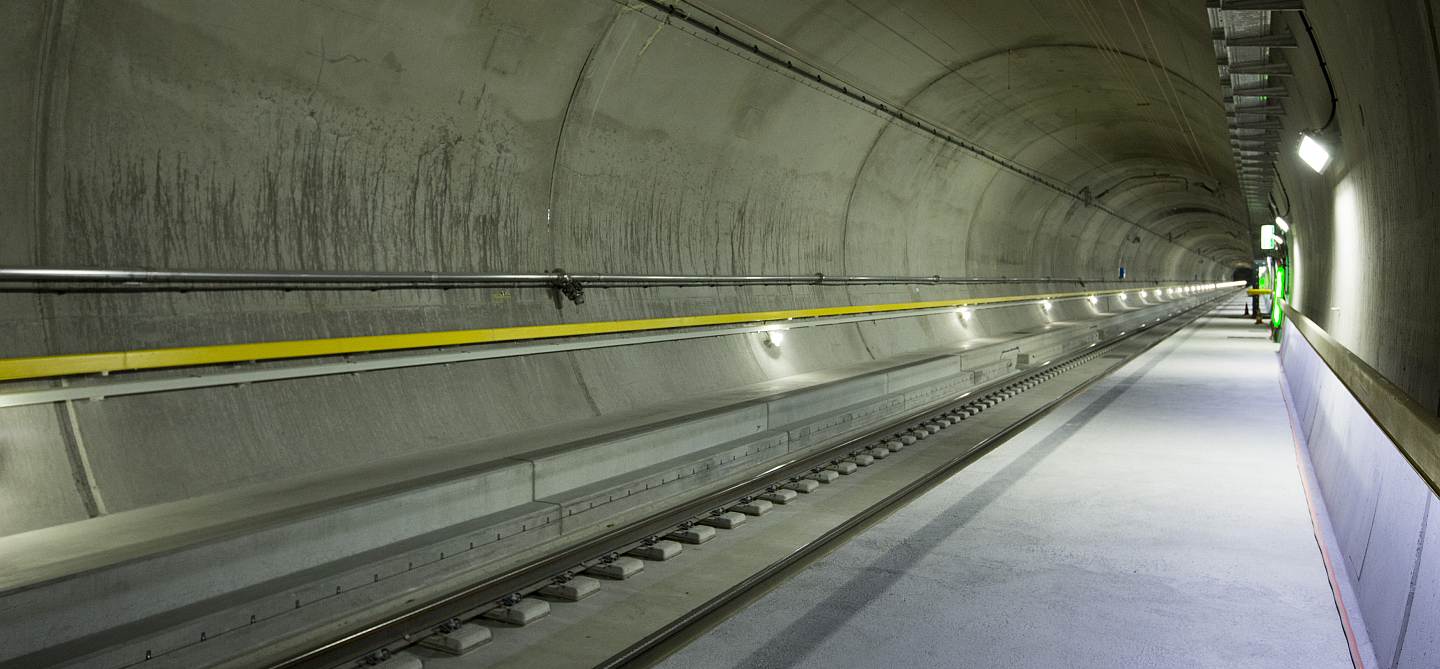 Gotthard Base Tunnel, Switzerland
The scheduled commissioning on December 11, 2016, marked the end of the project of the century – the Gotthard Base Tunnel – after nearly 20 years of building time. Its route length of 57 kilometers through the Saint-Gotthard Massif between Erstfeld and Bodio makes the Gotthard Base Tunnel the longest rail tunnel in the world.
The entire base tunnel, including cross-passages and multifunction stations, is double-walled. After the excavation support, a seal and an insituconcrete tunnel lining were installed. In the Erstfeld and Amsteg sections, the contractor used three formwork units, each with two 10-meterlong formwork carriages, for the cladding and tunnel lining...
The Queensferry Crossing, Edinburgh in Scotland
The Queensferry Crossing near Edinburgh in Scotland is a cablestayed bridge with three pylons over 200 m in height. It is one of the largest infrastructure projects in Europe and benefitted from ultramodern reinforcement planning in 3D thanks to the engineers from Leonhardt, Andrä und Partner (LAP) and Allplan Engineering.
Transport Scotland's consultants from the Jacobs Arup joint venture were not given an easy task in developing a concept for the new bridge. The bridge has to be an equal counterpart to the world cultural heritage of the "Forth Bridge."...
Renowned companies put their trust in ALLPLAN
Satisfied customers are the best proof of the reliability and quality of a company and its products. Our reference reports are a testament to our software's capabilities.
Request a personalized demo
Allplan Engineering is the ultimate BIM solution for civil engineers and structural draftsmen designing bridges and heavy civil projects. Concrete structures with complex geometry, can be fully modeled, reinforced and detailed quickly and efficiently. Speed up your work:
Limitless modeling of any shapes
Rapidly reinforce complex structures
Freely definable longitudinal and transverse sections
Request a personalized demo of the full version of Allplan Engineering.

*In a survey to 1,006 Allplan customers and prospects, we asked "Would you recommend Allplan to others?" and 96% answered "Yes". 
Downloads
Allplan License Server
Allplan Exchange
Allplan Environment
Allplan Workgroup Manager
Allplan Share