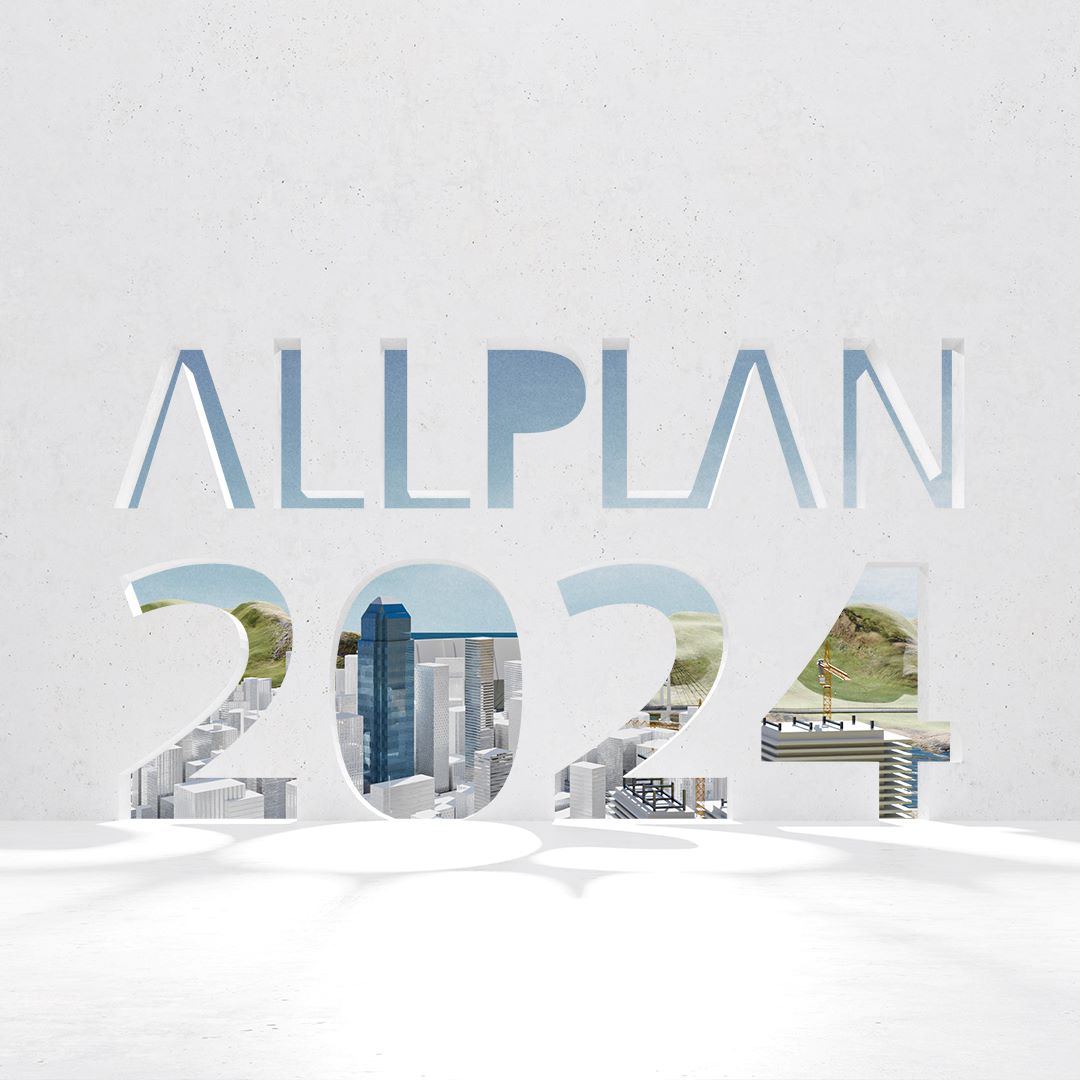 Allplan 2024
Accelerate
Design to Build
COMING IN OCTOBER 2023
Sneak Preview
LEARN ABOUT SOME OF THE BENEFITS OF ALLPLAN 2024
Allplan 2024: More productive, collaborative and advanced workflows
The new Allplan 2024 version accelerates productivity to an all-new level. Never before have you been able to complete tasks so quickly using powerful and automated design tools, integrated cloud-based processes, and advanced BIM workflows. Giving you the freedom to invest in designing great architecture, engineering effective transportation infrastructure, and constructing a better built environment.
Get a sneak preview on the forthcoming Allplan 2024 version with this video from ALLPLAN's SVP Product and Strategy, Eduardo Lazarrotto. Learn about some of the main benefits that the new version will deliver and discover just some of the new features planned. Watch out for further information on a regular basis until the official market launch in October. Stay tuned!
Be faster with Allplan 2024!
We are excited to take you on the journey to discover Allplan 2024
July 2023

Aug. 2023

Sep. 2023

Oct. 2023
Substantially increase your AEC productivity 
The upcoming Allplan version 2024 will support you through a range of exciting new tools that are going to increase your productivity. Just some features here include:
For Building Design: Content Connector – Automated & customizable content saves up to 80 % of the time spent on content-related tasks. New automated steel connections – faster structural design & detailing through automated modeling

For Infrastructure: New parametric intersections – faster and intuitive modeling of complex requirements in road construction. Parametric Terrain referencing – With terrain visualization directly in Allplan Bridge, the design process is now significantly more streamlined

For Construction: Groundwork planning tools – supporting rapid modeling and changes as well as precise geometry and quantities

Collaborate smoothly with your project partners
Allplan 2024 will provide you innovative new functionality for smoother collaboration across your building and infrastructure projects.
For Infrastructure Design: BIM for Roads (IFC 4.3 enhancements) – supports enhanced bim workflows for infrastructure projects
For Bridge Design: Import of superelevation data – all relevant superelevation data from planning partner imported in one step 
For Construction: BIM2FIELD – mobile Tools – collaborative approach for fast and accurate site-based communication
For all sectors: New Allplan Exchange – completely reworked platform for convenient documentation transfer
Benefit from superior design quality
The forthcoming Allplan version will include BIM workflows that enable you to complete your projects with superior design quality.
For Building Design: Improved Architectural Legends – for consistent representation and reliable quantity takeoff. 3D Modifications & 3D Clash Detection – reliably reduce errors through clash detection directly in Allplan
For Bridge Design: Parametric Reinforcement Set – Any changes introduced to the model will be reflected in the reinforcement for consistency
For Construction: Fixtures for Precast Components – More intuitive handling of fixtures for increased design quality
Stay tuned! There are more fantastic features coming your way...