ALLPLAN EXCHANGE
Accelerates your management

Routine work? Outsourced!
The Allplan Exchange digital plan management system enables architects and engineers to store and archive, in various output formats, all plans created in Allplan, and sent via the web service to other project collaborators. This allows the current plan data to always be available - over the entire course of the project - to all collaborators.
Allplan Exchange is the ultimate solution for delivering plans digitally
Efficient delivery of plans
Plans are distributed directly from Allplan with the online area of Allplan Exchange - which is optimally integrated in the BIM platform. The documents of the project are stored online, which enables all project collaborators to access up-to-date information. Thanks to the contact-related settings and comfortable plan filters, the partners only receive the plans and formats that are actually relevant to them. This avoids a "data flood".
Transparent communication
After plans have been sent, the recipient automatically receives an email with a note on how to proceed further e.g. "For information", "For confirmation", "Please call back". The data is available for downloading at https://exchange.allplan.com. This enables construction projects to be planned and implemented more efficiently.
Productive plan management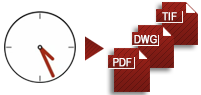 Allplan Exchange provides new functions and services for digital plan management. With the seamlessly integrated module, plan attributes such as the plan index can be easily edited. Plan data is securely stored and archived locally in various formats (e.g. pdf, dwg, and tif) via the multi-export function. This enables routine tasks in plan management to be completed in a significantly flexible and productive method.
A perfect connection between CAD and web
Since construction projects are becoming increasingly complex, processes must become more transparent: Through the seamless integration of Allplan Exchange, Allplan accelerates the collection, distribution and archiving of plan data. This avoids discrepancies and delays.
Would you like to use the web service of Allplan Exchange?

Downloads