Allplan Bridge
Buildability at its best
The professional BIM solution for bridge construction
Allplan Bridge is the professional BIM solution for bridge construction. Engineers work with a single solution from parametric model creation with a high level of detail including prestressing to integration of the construction process and structural analysis of the bridge model.
TECHNICAL WHITEPAPER

A new BIM Tool Tailored for Bridge Engineering
Allplan Bridge 2022
The evolution of modeling for precast girder bridges
The new version Allplan Bridge 2022 introduces an additional specialized modeling approach that allows engineers to easily and quickly create the accurate geometry of precast girder bridges. A wide range of new functions have been implemented for this purpose, a number of which can also be used more widely, optimizing modeling efficiency and change management processes. Further new features include AASHTO LRFD9 design code and checks, as well as improvements to support user friendliness. Interoperability and BIM are supported through the integration of IFC4.3.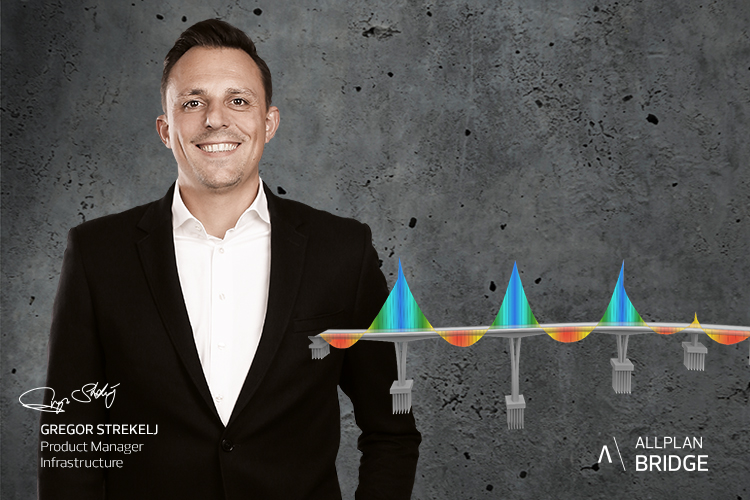 Allplan Bridge
"World Innovation: Modeling, Analysis and Detailing in a single BIM solution for Bridges."
Advantages of the Allplan Bridge Solution
Model creation without compromise
Allplan Bridge has been developed by recognized bridge experts. The 3D parametric model description considers the road layout, bridge alignment and required cross-sections, making model configuration quick and efficient. Complex geometries including double-curved alignment and variable cross-sections can be created easily. The user only needs to define typical cross-sections and Allplan Bridge will accurately calculate all cross-section variants in accordance with the defined table(s) or/and formula(s).
Structural Analysis
A global static analysis based on the Bernoulli beam theory is performed for all automatically and manually generated calculation actions defined previously in the construction sequence definition. The analysis is enhanced to accurately consider the cross-section variation. Furthermore, the nonlinear calculation of time dependent effects is performed, considering design code formulas.
Code Based Design
Design of necessary reinforcement area is based on both ULS and SLS requirements. Governing combinations of internal forces including 2nd order effects are checked against flexural, torsional and shear resistance and the requirements for stress limitations and crack width. The greater of calculated or any manually specified reinforcement amount is used for code assessments of the cross-sections.
Parametric Modelling
The multidiscipline model in Allplan Bridge is completely parametric. Changes can be made at any time. The dependent objects are automatically adjusted. Allplan Bridge is suitable for all phases of work – from the concept to construction planning and detailed design.
Prestressing made simple
Allplan Bridge makes it easy to model a wide range of types of pre-stressing: with immediate or later bond, internal and external, longitudinal, transverse and vertical, as well as with non-standard geometry. Based on user-defined 3D points, the program automatically generates the geometry of a tendon along the bridge structure.
Planning stressing sequences in Allplan Bridge
A stressing sequence can be defined for each tendon specified in the model. Stressing, wedge slip, and releasing are available actions. These actions are carried out at the begin of the tendon, at the end, or at both sides simultaneously. To optimize the management of tendon stressing, the sequences of stressing actions are stored as named "stress groups.
Referencing standard profiles
Standardized and repeatedly arranged cross-section parts such as longitudinal stiffeners in steel and composite sections can be easily placed.
Integration of the fourth dimension
The time as fourth dimension is considered when specifying the construction process. Amongst other things it is possible to define and compare different schedules for the same bridge structure.
Analysis: Calculation of cross section values
The calculation of cross-section values is an essential step in the generation of an analysis model. The calculation supports all types of sections with an arbitrary geometry.
Save time with parametric object placement
Objects from the Allplan Engineering library can be referenced in Allplan Bridge 2019 to add further details such as lamp posts or anchor devices of tendons to the bridge model.
Convenient operation
Unique parametric control enables quick and efficient management of the inevitable changes that occur during the design process saving both time and money. Working with Allplan Bridge is very convenient and specifically tailored to the requirements of bridge engineering.
Changes made in no time at all
Allplan Bridge helps you to manage the inevitable changes that occur during the design process. The parametric model description is an ideal base for adapting design changes. The modifications are incorporated only at their origin and all other linked members are automatically updated.
Smooth data exchange
Integrating road data used for road/bridge alignment is easily achieved via Allplan's open BIM platform Bimplus. The bridge engineer must only take over the road data and can immediately start with the bridge design. Once the design is completed, the parametric model can be transferred in Allplan Engineering and to analysis software.
Intelligent Database
Allplan Bridge benefits from a built-in database that is continuously logging modifications as the project progresses. This ensures that the input is never lost.
From model to time planning
The parametric bridge model generated in Allplan Bridge can be subdivided into individual construction elements. These can be transferred to Allplan Bimplus and linked with time-specific attributes.

Technical support from bridge experts
ALLPLAN's bridge design experts have over 30 years' experience supporting engineers worldwide. ALLPLAN's clients can benefit from our technical experts providing comprehensive consultancy, training and support.
ALLPLAN Software Engineering GmbH
Competence Center Allplan Infrastructure
Kaiserfeldgasse 1, 8010 Graz, Austria
Telephone: +43 316 269786
INFO.INFRA[AT]ALLPLAN.COM
SUPPORT.INFRA[AT]ALLPLAN.COM
Your way to the new bridge construction software Allplan Bridge
Downloads