Allplan Solution Partner
PythonParts Library
Allbau Software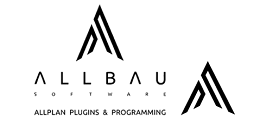 Set of predefined parametric objects in Allplan
Library of standard details and structures, reinforcement templates in Allplan.
PythonParts, parametric objects in Allplan, can represent various elements, optionally including reinforcement and fixtures, controllable by handles and parameters, possibly connected with structural analysis, if necessary with automatic creation of views. 
PythonParts can be used successfully with recurring operations (creating models – like architectural or formwork, adding fixtures and reinforcement meshes and bars, generating drawings, etc.) on standard elements. They therefore enable saving time while also helping to avoid mistakes.
Our PythonParts Library includes each of our existing standard elements, like Wall-Slab Joint (FF, meshes), Slab Reinforcement with meshes, Elevator Shaft, Bridge Abutment, Bored Pile, and as far as reinforcement details go - Flat Mesh and Flat Reinforcement Cage. 
Each of them can also be ordered as a separate object. We also can create any necessary additional objects for you according to your specific requirements at a reasonable price.
Integration

Allplan
IFC
Discipline

ENG
Workflows

Design
Usecase

BIM Content/Product catalogs
Structural analysis / Design
Fabrication/Manufacturing