BIM solutions for
precast fabrication
ALLPLAN offers integrated solutions to design precast elements reaching a new dimension of efficiency and precision in precast concrete planning.
Precast construction
software for engineering offices
Solutions for the challenges in precast concrete planning
Precast construction, also known as offsite-construction, industrialized construction or prefabrication, is one of the fastest growing segments in the construction industry. Success factors are exceptionally high quality, efficiency, and reliable time and cost planning.
Planbar is an openBIM solution for the successful design and detailing of your precast projects. Benefit from 30 years of know-how in the precast sector.
With ALLPLAN's solutions especially for industrialized construction you:
> accelerate the precise planning of your precast projects
> design in 2D or 3D as you wish - the model and all shop drawings are 100% consistent at all times
> create shop drawings including reinforcement, labeling and fixtures fully automatically
> generate production data that you can rely on
Below you find more detailed product information and exciting reference projects.
Our solution portfolio


for precast fabrication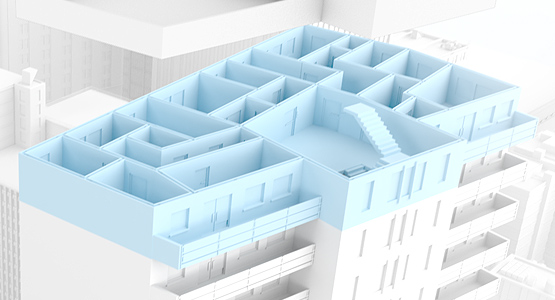 Precast Fabricators
Solutions for the challenges of precast Manufacturing
Planbar and Tim enable the digitalization of the precast process, from concept to industrialized manufacturing. With tools specifically developed for industrialized construction, precast designers and planners can achieve unparalleled quality, efficiency, and precision in their processes. Our unique work preparation and BIM management solution Tim empowers you to manage all production-related aspects highly efficiently using automated information flows – including product stacking in 3D, component information, production planning, and scheduling. Sophisticated quality features help you avoid expensive mistakes and therefore protect your margins. Learn more about how precast manufacturers can benefit from our powerful solutions.
References
Allianz Stadion, Austria
Score: Rapid's new precast stadium
In 2016, the tradition-steeped Viennese soccer club SK Rapid Wien moved into its new home, the Allianz Stadium. Oberndorfer Betonwerke, one of Austria's leading precast construction companies, played a major role in the construction. Among other things, Oberndorfer was responsible for the technical design and detailing, production and assembly of 880 grandstand elements, 150 precast staircases and up to 18-meter high external supports with a total weight of more than 40 tons. Oberndorfer uses Planbar as the planning software. © Photo SK Rapid Wien
OPP Vejle Psyk, Denmark
New hospital wing made of high-quality precast elements
For the construction of the new wing, Vejle Clinic relied on precast concrete construction. All concrete elements were supplied by Contiga Tinglev A/S, such as the support piers for the walkway and the circular piers in the interior. A total of 14,000 square meters of concrete walls and 24,000 square meters of hollow were delivered. Contiga Tinglev is considered a pioneer in its field, is the precast concrete market leader in Denmark and relies on Planbar for the design and detailing. © Photo Contiga Tinglev
At the top of the Puy de Dôme volcano, France
Rock solid at the lava dome: the station made of precast concrete elements
The underground mountain railway station made of precast concrete elements provides shelter from the extreme weather conditions for 380,000 visitors every year. Prefabricated double walls from Rector Lesage were the solution for simplified logistics and maximum precision. Placed in a slight circular shape, almost 3,600 square meters of double walls form the reception and circulation area as well as the outer walls and the station platform. For the design of all precast elements Rector Lesage relies on Planbar. © Photo Rector Lesage
The Allplan solution portfolio for Precast fabrication