Allplan Bimplus for all disciplines to collaborate on building projects
With Allplan Bimplus, you can merge sub-models from different disciplines and then analyze them. The Task Board ensures efficient task management and easy access to Allplan Bimplus via mobile devices enabling location independent working. Allplan Bimplus provides optimum support for BIM working methods.
Open to any

industry compliant software.

Access your projects anywhere, anytime.

Supports BIM working methods.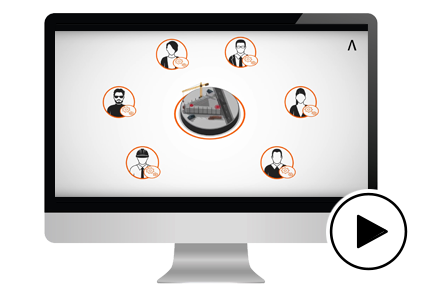 Manage building projects efficiently with Allplan Bimplus
Allplan Bimplus allows you to implement construction projects faster, more cost effectively and with improved quality. Thanks to its simultaneous and real time access, all stakeholders can view data in real time relating to the project design and progress. In addition, you benefit from cost effective and improved quality of data by discovering design discrepancies early and eliminating them before construction work begins on-site.
FASTER: Compliance with deadlines for quicker and clearer coordination processes
BETTER: Increased design quality through early indication of errors and retrification
MORE COST EFFECTIVE: Greater cost security through avoidance of costly design errors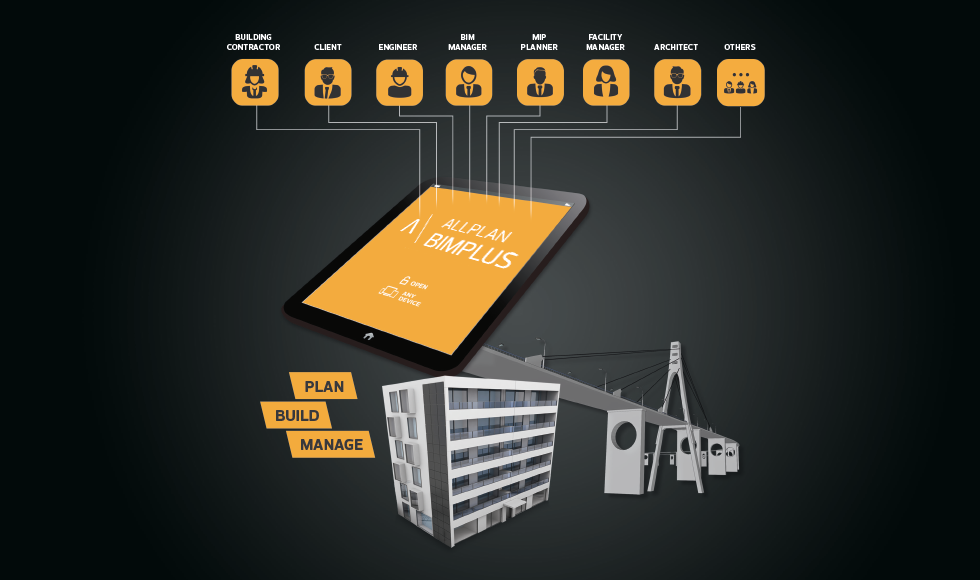 Control bim projects efficiently
Using BIM working methods, Bimplus allows you to control and monitor building projects over a building's entire life cycle enabling you to run an efficient project management. You are kept up to date and always able to track open and closed tasks.
Integrate data from various systems
The significant advantage of Bimplus enables you to incorporate data from any construction industry software via the API interface. The information contained is merged with a central coordination model and represented visually. This forms the basis for successful project management.
Communicate tasks clearly
The central coordination model forms the basis for cross-disciplinary collaboration: Here, all relevant information flows together and discrepancies are immediately visible helping you to identify collision detection. Discrepancies identified can be clearly resolved. You can use the Task Board in Allplan Bimplus to quickly and clearly coordinate the tasks with all project stakeholders. The benefit is that the individual planners maintain full control over their own sub-models.
Access project data anywhere and anytime
You can access Allplan Bimplus at anytime, anywhere and with any device. If you're not in the office, you can visualize, share and process data via a browser or an app. Bimplus is available when you need it.
Pricing & Contact
Allplan Bimplus is a feature rich BIM Collaboration platform with a selection of packages available tailored to meet your everyday project needs. These packages range from entry level, designed to provide a taste of the power available, through to Professional and Enterprise, designed to take your organisation to the next level of BIM coordination and collaboration. Become a BIM professional with Allplan Bimplus today!
Features Table
The table below shows the features that come with the Standard, Professional and Enterprise versions of Allplan Bimplus and outlines the pricing structure for each option.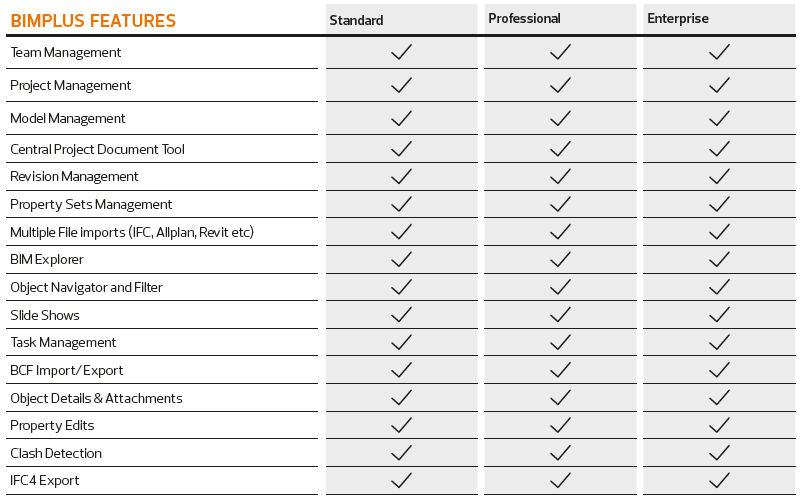 Pricing
Allplan Bimplus is getting even more mobile
To meet the wide variety of requirements in the building industry, the functional scope of Allplan Bimplus is regularly optimized and new applications are constantly being developed. The latest innovation is the iPad app for Allplan Bimplus. The Task Board, the section function in the Allplan Bimplus Viewer and the touch functionality have been further enhanced.
New iPad app for Allplan Bimplus
There is now an app specifically for the iPad, which enables smooth and remote functionality of Bimplus. The iPad App covers the same functions as the desktop version. With this app you have access to your projects at all times and from any location.
Better overview and planning reliability in the Task Board
You use the Task Board to manage tasks and communicate efficiently with planning partners. The coordination model in Allplan Bimplus forms the basis for working with the Task Board. Together, you discuss the tasks and anchor them directly in the model, define responsibilities, priorities and due dates, and communicate them in real time.
To facilitate the use of the Task Board, the task details are now displayed more clearly and the number of work steps has been significantly reduced. In addition, the processing of tasks is now governed by role-based access rights. The task creator can open and close a task, the task processor can only assign status "Processed" to the task. This produces clear responsibilities and thus supports reliable planning. 
Enhanced section function for better model control
You use the Viewer function in Allplan Bimplus to view the building model. The model can be rotated, moved, or zoomed, and you can use sections to represent certain viewing levels. The improved section function now enables you to generate section levels parallel to any existing area.
By clicking on an object in the model – such as a wall, pillar or ceiling – you define the position of the section area in the space. This section area can now be moved forward or back, which enables you to better analyze and control the model in the three-dimensional space. 
Allplan Bimplus optimized for touch screens
Access to Allplan Bimplus using mobile devices with touch-screen functionality makes it easier to work independently at any location, and therefore helps save time in project management. The optimized touch functionality proves with larger operating elements and the option of navigating the building model with multi-touch gestures. As a result, the use of Bimplus out of the office is more user-friendly than ever before.
Allplan Share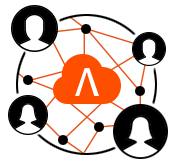 With Allplan Share you benefit from a direct collaboration with design partners around the world by utilising the same Allplan project data. Allplan Share is based on the BIM platform Allplan Bimplus, and offers a direct link to third party tools via an open API. Furthermore, additional costs for the acquisition and maintenance of a local server are eliminated.
---
More comfort and flexibility by connection to MS Excel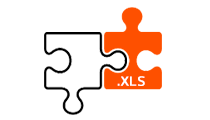 The Add-on for the direct connection of Allplan Bimplus to MS Excel offers many benefits, especially for editing properties of building components. You import the alphanumeric information such as material, fireproof classification, weight or prices from the coordination model directly to MS Excel. There you edit properties comfortably with the well known Excel functions. The changes will be updated in Allplan Bimplus coordination model via the bidirectional connection. The content of the Excel file can also be transferred to other Excel files, third-party applications or local databases where they can be further processed.
---
AX3000 Virtual Reality
The add-on allows architects, engineers, planners, builders, and others involved in the construction to see a building close to reality before the groundbreaking has begun. This requires a digital building model on the Allplan Bimplus platform and an OCULUS Rift® VR lens (not included in the price). Once the VR model has been generated, the building model can be viewed immediately without editing the data. The building can be visualized in different environmental scenarios. A simulation of the sun's course is possible as well as adaptation of textures. Movement in the building can be done either via the keyboard or via an optional gamepad. This also applies to all other functions.
Performance Description AX3000 Virtual Reality
Partner & Developer
Are you a developer and want to use our SDK or API for your applications? You can view the documentation on Allplan Bimplus here:
User Guide, Updates & Support.
If you have any questions, you can also contact us directly.