ALLPLAN Partner Solutions
DELIVERING MORE TOGETHER
Our ALLPLAN Partner Ecosystem includes a diverse range of partner solutions to expand workflows across the entire lifecycle of buildings and structures.
Find the best partner solution
Become ALLPLAN Solution Partner
At ALLPLAN we always strive to provide our customers with the most efficient solutions and workflows. ALLPLAN Solution Partners make a significant contribution to achieving this mission.
Values we share at ALLPLAN:

Respect
We foster a respectful working culture with our Partners & Clients.

Transparent Communication
Communication & collaboration is our key to success. We share an open and transparent culture.

Reliability
Reliable relationships are the ones that last. We create sustainable cooperations and see reliablitity as one of our key values.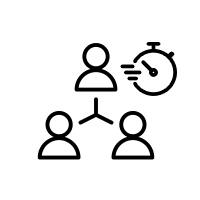 Efficiency
Efficient workflows are our core aim for our customer success. Together we deliver robust, smart and intuitive workflows.
Bimplus by ALLPLAN
Connecting your project data.
Accessibility to your project data is key to ensure a seamless flow of information between disciplines. To achieve this, you need your project data to live within an open platform that can be used out of the box and customized to fit in with your chosen and specific workflows – Bimplus by ALLPLAN provides open interfaces to enable this.
With Bimplus you manage your data in the cloud. The integrated Open API framework empowers you to configure, customize, and extend the existing functionality and maximize your project goals. Develop new applications, link in 3rd party software, take control of the way you work and even embed Bimplus into your own tools. The Bimplus API introduces you to a connected world that never existed before.
Python API
The power tool to create customized solutions.
With this tool you can easily add your customized app to your daily workflow. Whether you want to automate small steps or create complex elements, this tool is the perfect solution for you. The Python API enables you, for example, to detail a complete room in less than two minutes, create complex elements with just a few clicks, automize reinforcement, check design rules, observe quality or check safety and security aspects of your design. This method can also be used to create nodes that can be integrated into the Allplan Visual Scripting GUI and used to visually create a parametric object or an automated process.
Partner Process
3 Steps to become an ALLPLAN Solution Partner:
Phase 0:
Define common goals and milestones
Feasibility Check
Discuss workflow concept
Phase 1:
Elaborate project goals
Supportive workflow development
Regular progress meetings & final audit
Phase 2:
Sales & marketing activities
Further workflow development & steady maintenance
Common customer support & training