BIM solutions
for Architecture
ALLPLAN develops solutions for architects that cover the entire design process and take collaboration with project partners to a new level.
Architecture Software
The right tool for every task
The scope of architectural design ranges from individual houses to outstanding landmark projects. Both require a maximum of know-how, innovation and creativity. To achieve this, architects must be able to work in both 2D and 3D, communicate efficiently with design partners and deliver the best design quality. ALLPLAN offers the ideal software solutions for all these tasks.
> Unsurpassed information quality, especially in working drawings
> Open BIM platform for efficient cooperation across all disciplines
> Precise materials take off for accurate costing
Below you will find in-depth product information, testimonials and inspiring reference projects.
Our solution portfolio


for architecture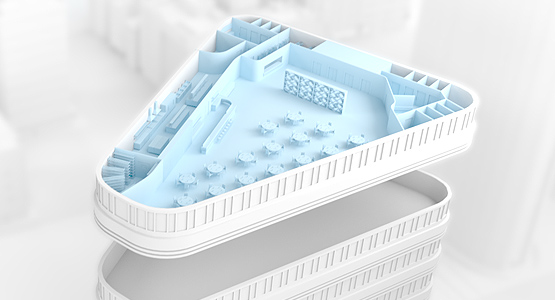 Architects
Concept to creation for architects
Creative freedom to develop innovative concepts together with detailing precision to realize projects more successfully from concept to site through accurate documentation. Digital workflows are the key to success in design for architects. Thanks to an OpenBIM approach all project partners can work together smoothly and thus jointly achieve greater quality and accuracy. Variants and changes are significantly simplified by coordinating across multiple models. An efficient detailed design optimizes project time and saves costs. With Allplan ...
Design in 2D or 3D according to your needs
Visualize your projects quickly and easily
Unsurpassed modeling precision and detailed output
Seamlessly work together across different disciplines
Save time and increase your design quality for construction
Giessen Tower
"Many Allplan tools help us to efficiently develop models and check our plans easily using 3D visualization."
Matthias Moog, atelier ww
The Circle
"Thanks to designing the model in 3D with Allplan, we can efficiently address these challenges."
Daniel Zweifel, RLC
SKY Tower
"We used Allplan from the very first draft right through to the working drawings."
Mike Geer, KMB
Benefits of Allplan Architecture at a glance
BIM-aided design
Allplan enables you to build virtually first then in reality, indicating any errors and conflicts early even during the design phase, avoiding delays in construction.
Design freedom
The powerful Parasolid modeling kernel from Siemens, which is integrated in Allplan, offers greater freedom when creating 3D models.
Visualization at the highest level
The integrated CineRender from Maxon enables you to create high-quality visualizations intuitively and efficiently directly from Allplan.
References
ristav CUBE
The design, planning, and execution of industrial and office buildings using a progressive working method is a core competence for the Vollack Group. The desired goal is to offer their clients tailor-made solutions with unique features using these methods. They are to support the customer and also work with a view to securing repeat work for future developments. The construction project "ristav CUBE" is a classic example of a project with customer-specific features.
Felix Platter Hospital Basel
By summer 2018, there will be a new hospital for geriatric medicine on the Felix Platter site in Basel. With the realization of the project from consortium "ARGE HandinHand", which won the two-stage overall performance competition, the hospital should "reach new heights", in the words of the hospital management team. The project, which will cost 200 million francs, is also one of the first BIM projects in Switzerland.
Evangelische Grundschule Karlsruhe
The construction project of the school foundation of the Protestant Church in Baden consists of two clearly defined, two-story individual buildings (elementary school and sports hall), grouped around a shared courtyard. At the same time, this central schoolyard is the entrance to all areas and creates a concise and highly recognizable outdoor area.
Allplan Product Solutions

Allplan is the ultimate BIM solution to meet the challenges of the construction industry and benefit from the digital transformation. BIM software and ALLPLAN's industry-leading collaboration and integration tools form the ideal combination.

Allplan Bimplus is the ultimate open BIM platform for all disciplines to collaborate efficiently in building projects. BIM model data, information, documents and tasks are managed centrally over the complete building life cycle.