Now available
Planbar
the detailing solution for precast projects
Planbar is ALLPLAN's unique solution for precast detailing enabling you to generate production data you and your customers can rely on.
Suitable for structural precast elements, walls and slabs
Automated creation of shop drawings
Design in 2D or 3D as you wish
Latest Webinars
Want to dive deeper?
Have a look at our webinars
Planbar
1 CLICK - NUMEROUS BENEFITS
Planbar is a 3D CAD solution specifically designed to take precast design and detailing to a new level of efficiency and precision. Design walls, slabs and structural precast elements such as stairs faster and more accurately than ever before. Handle a heavier workload thanks to numerous automation features such as 1-click reinforcement, import of architectural models and fixtures, fully automated creation of shop drawings, and arbitrary switching between 2D and 3D working methods with 100% consistency every second. Discover why the engineering office Mossel relies on Planbar for the design and detailing of his precast concrete projects in this video.
You are a precast manufacturer?
Get to know our additional solutions for precast factories.
Solutions for work preparation and BIM management
---
Advantages of Planbar at a glance

Precise design and detailing
Planbar allows you to efficiently model all types of precast elements - from walls and slabs to structural precast elements such as stairs or columns.

Create shop drawings automatically
Create shop drawings including reinforcement, fixtures and dimensions with just one click. Benefit from intelligent templates. For each precast element type, you automatically receive your customized plan layout.
Save time with 1-click reinforcement
For all types of walls and slabs, Planbar creates the basic reinforcement for you fully automatically. This time-saving function is included in the Slabs, Walls and Assets packages.

Flexible planning in 2D and 3D
Planbar enables model-oriented AND plan-oriented working! Our unique Elementplan-Technology gives you the best of both worlds: the clarity of the 3D model and the simplicity of the 2D plan. Technically, shop drawings are views of the model, so shop drawings and model are 100% consistent every second.

From parametric input to free modeling
Planbar offers you the right tools for every requirement: 'mass customized' stairs or columns are best created highly efficiently by parametric input. You model unique structural precast elements completely freely and thus benefit from unlimited flexibility.

Import BIM models
Planbar is designed for efficiency: With our assistants, you can easily import architectural models and MEP objects and use them for precast design.

High efficiency for projects
The BIM-Booster add-on module is designed specifically for large projects. Reduce lead time by allowing your planners to work in parallel on the same project. Increase productivity when handling identical and similar elements with the help of intelligent links and automated processes.

Teamwork with openBIM
Collaborate easily with colleagues and partners across systems. Planbar offers you open standards (openBIM), state-of-the-art interface formats such as IFC4precast and a direct connection to Bimplus.


Implement changes quickly error-free
Thanks to the Elementplan-Technology, it is sufficient to make the necessary changes either in the model OR in the plan. Planbar ensures that the model and all shop drawings are consistent every second.

The best data for your machines
Rely on absolute precision in generating production data including reinforcement. Optionally, our work preparation solution Tim supports you with the Tim Quality-Manager in controlling all quality and safety aspects relevant to you - as per option with a mobile app.

Save time with favorites and templates
Define your own favorites for different projects or clients and save valuable time. This ensures that you don't always have to reinvent the wheel and that you always reflect the specifications and wishes of your clients.

Planbar is intuitive to use
Anyone who is proficient in 3D CAD software will quickly find their way around Planbar. Planbar offers you logical workflows, a tidy user interface and the user experience familiar from Allplan. In addition, you can customize Planbar to your own way of working, your workflows, quality rules, favorites and precast catalogs.
---
Planbar packages - suitable for your needs
Are you designing only precast walls? Or only precast stairs? Or walls, slabs and structural precast elements? Wherever your work focuses: we have the right Planbar Packages for you.

For general requirements:

Essentials Package
With the Essentials Package, you can create any precast element easily and efficiently – slabs, walls, and structural precast parts like stairs: the Essential Package combines the speed of plan-oriented work with the quality and clarity of 3D. The transfer of architectural components, 3D elements or PythonParts guarantees the greatest possible flexibility. Create shop drawings at the push of a button and save time with many smart features.

For automated slab design:

Slabs Package
In addition to the Essentials functionality, the Slabs Package allows you to benefit from automated detailing workflows for slabs. Create inclined planes, ramps or balconies from a simple 2D polygon. The design and detailing range includes assembly parts such as lifting anchors or automatic base reinforcement. The Slabs Package also divides the building into precast slabs for production automatically, based on your manufacturing capabilities. 

For automated wall planning:

Walls Package
The Walls Package offers you all Essentials functionalities and additionally automated detailing workflows for all wall types. Modify elements as well as objects in the properties palette by selecting the wall and editing the properties directly in the dialog box. Planbar creates the basic reinforcement and calculates fixtures such as lifting anchors for you with one click. Also, based on your manufacturing capabilities, Planbar automatically divides the building into precast walls for production. 

The all-in package:

Assets Package
The Assets Package is the sum of all packages and therefore our solution for efficient, intelligent and automated detailing of all precast element types. Switch easily and at any time between the Essentials, Walls and Slabs applications. Add all precast elements together in one project and navigate through the model to check connections and reinforcement. 
---
Additional products and add-ons for Planbar

Workgroup-Manager
Workgroup-Manager creates significant synergy in medium and large design and construction offices. This additional option ensures that you can centrally manage your project data and users with their access options. The entire network-wide data access is also transparent thanks to the Workgroup-Manager.


Mesh Welding Systems (MWS)
Our MWS solution enables cost-saving just-in-time production of reinforcement. In Planbar, you can easily set the capabilities and limits of your mesh welding system via parameters. Planbar automatically takes these specifications into account when creating the reinforcement. The result is error-free and efficient production of your reinforcement.

MES-Connect
With MES-Connect, you create a direct link between Planbar and your production systems. Avoid time-consuming manual steps and the risk of expensive mix-ups or transmission errors. Compatible formats: ULB (Unitechnik), PXML (Progress), BVBS and IFC.

Sales-Manager
Make life easier not only for your designers, but also for your sales colleagues: Planbar's Sales-Manager enables the creation of impressive 3D models and quantity calculations without any CAD knowledge at all. With Sales-Manager, you can massively speed up and improve your quotation processes.

ERP-Connect
With ERP-Connect you enable your commercial system to communicate directly with Planbar and Tim. You can synchronize project-related data such as master data, delivery dates or billing data effortlessly and without errors. Compatible formats: ADS-XML, PXML-Delegate or KST.


Formbau
Formbau automatically creates 3D formwork models for complex concrete structures. The tool derives the formwork directly from Planbar, helping you to save valuable time. At the push of a button, you receive position plans, parts lists, substructures, exploded views and data for the milling machine. You can conveniently edit details such as joints and miter cuts at any time.

References
Allianz Stadion, Austria
Score: Rapid's new precast stadium
In 2016, the tradition-steeped Viennese soccer club SK Rapid Wien moved into its new home, the Allianz Stadium. Oberndorfer Betonwerke, one of Austria's leading precast construction companies, played a major role in the construction. Among other things, Oberndorfer was responsible for the technical design and detailing, production and assembly of 880 grandstand elements, 150 precast staircases and up to 18-meter high external supports with a total weight of more than 40 tons. Oberndorfer uses PLANBAR as the planning software. © Foto SK Rapid Wien
OPP Vejle Psyk, Denmark
New hospital wing made of high-quality precast elements
For the construction of the new wing, Vejle Clinic relied on precast concrete construction. All concrete elements were supplied by Contiga Tinglev A/S, such as the support piers for the walkway and the circular piers in the interior. A total of 14,000 square meters of concrete walls and 24,000 square meters of hollow were delivered. Contiga Tinglev is considered a pioneer in its field, is the precast concrete market leader in Denmark and relies on PLANBAR for the design and detailing. © Foto Contiga Tinglev
At the top of the Puy de Dôme volcano, France
Rock solid at the lava dome: the station made of precast concrete elements
The underground mountain railway station made of precast concrete elements provides shelter from the extreme weather conditions for 380,000 visitors every year. Prefabricated double walls from Rector Lesage were the solution for simplified logistics and maximum precision. Placed in a slight circular shape, almost 3,600 square meters of double walls form the reception and circulation area as well as the outer walls and the station platform. For the design of all precast elements Rector Lesage relies on PLANBAR. © Foto Rector Lesage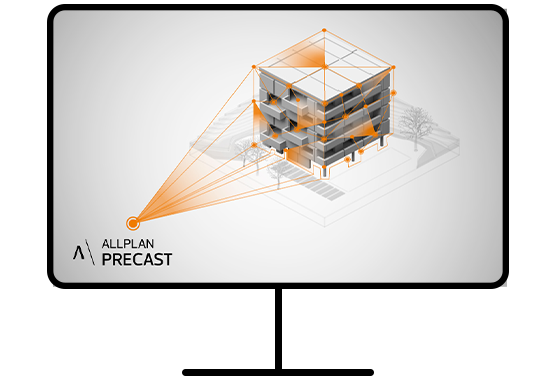 Additional solutions for
Precast manufacturers
work preparation and BIM management
In addition to CAD software, precast factories also need solutions for all processes downstream of CAD planning - from stacking to invoicing. With Tim|work, ALLPLAN offers you vivid work preparation in 3D, direct access to all project information and sophisticated quality assurance. Are you aiming for full digitalization and thus the highest possible productivity? Tim|flow automates and accelerates the information flows between ERP, CAD, MES and BIM systems. With the help of the mobile app, you have your data always and everywhere at hand. In addition to our software solutions, we offer you a comprehensive service portfolio. If you wish, our experienced customer excellence experts will accompany you in the digitization of your precast processes.
Your way to the precast design and detailing software Planbar
---
Downloads