Precast Buried Structures Webinars
Allplan is an ideal software solution for precast companies specializing in buried structures, like precast catch basins, box culverts, manholes, & more. Watch our recorded webinars to learn about how BIM can bring huge benefits to precast concrete production.
Precast Buried Structures Webinars
Subscribe RSS-Feed for webinars
Automating reinforcement placement and drawings for precast
Detailing reinforcement for precast concrete projects can be time-intensive and error-prone, especially when using 2D CAD software.
Once bar schemas have been generated, it's not easy to validate the information against the 2D draft, and it is even harder if you have to modify the existing bars to correct an error or update the design.
When openings are added or the structure's geometry changes the reinforcement becomes out of date and has to be redrawn. Depending on the size of the project, this could be extremely time-consuming, and cause a bottleneck that affects the overall deliverables.
In this webinar we will do a deep-dive into innovative new 3D tools that streamline the entire design, reinforcement and documentation process. 
We will also showcase enhanced Cut Bars and Join Bars commands. These commands allow the user to cut or join reinforcing singularly or in bulk.

This webinar will explore:
Where bottlenecks exist are in the precast concrete project delivery process
Why 2D process of reinforcement and creating production plans are error prone
How 3D modeling tools can produce precast drawings and documentation easily and accurately in a fraction of the time compared to 2D drawing methods
Digging deeper into the benefits of BIM for buried structures
In this webinar we'll show how quick and easy is to model and reinforce buried structures. We will show you a 2D-to-3D workflow: working in views and sections the way you always have, and adding a few extra steps to get a 3D model and all the benefits that come with it. We will demonstrate how to automatically generate drawings, schedules and perform clash detection right from the model, reducing engineering man hours and production issues.
Uncover the Benefits of BIM for Buried Structures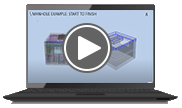 In this webinar we'll show how quick and easy is to model and reinforce buried structures.
After this webinar you will understand:
Modeling and reinforcement box culverts, concrete pipe and underground vaults
Leveraging 3D models to automatically generate drawings, schedules and reports
Linking analysis and design to reduce time and errors