Allplan Solution Partner
Design2Static
Allbau Software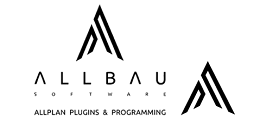 Structural analysis model in Allplan
Allplan interplay with analysis software. Analytical model generation in Allplan (on-sity or precast buildings), IFC Structural Analysis View export.
The Design2Static plugin significantly accelerates the creation of analysis models for on-sity buildings in Allplan and can transfer them to various structural analysis software, like Dlubal, InfoGraph, Sofistik, etc.

The data re-entry is excluded — quite the BIM style! And all this, including automatic checking and manual editing, is done without leaving your familiar Allplan environment.
Integration

Allplan
IFC
Discipline

ENG
Workflows

Design
Usecase

Structural analysis / Design