Features Allplan Bridge 2024
More productive, powerful and automated bridge design workflows
The new Allplan Bridge 2024 version accelerates parametric bridge design to an all-new level. Never before have you been able to complete tasks so quickly using powerful and automated modeling and detailing tools, extended structural analysis capabilities, and streamlined digital design workflows. Giving bridge engineers the opportunity to optimize their designs, deliver projects earlier, maximize value for their clients and build better bridges.

Be faster with Allplan Bridge 2024:
Thanks to increased productivity
Through extended structural analysis
With superior design quality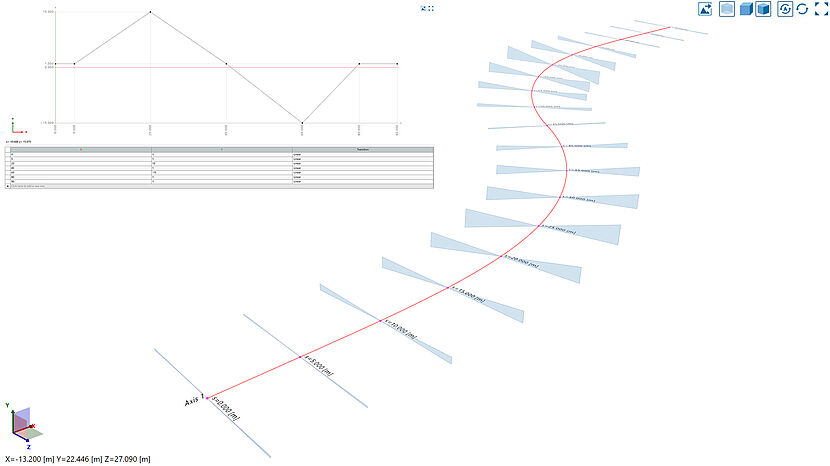 Import of super-elevation data via Allplan Cloud
More efficient design work
The axis and the pavement geometry (section) are normally defined by the road engineer. The axis is defined by the plan and elevation geometry and the pavement is defined by one or several cross-slopes and corresponding widths which vary along the axis. All of this needs to be considered while modeling bridges. In order to minimize, if not omit, re-entering of this data, in Allplan Bridge it is now possible not only to import the geometry of the axis, but also the corresponding definition(s) of cross-slope.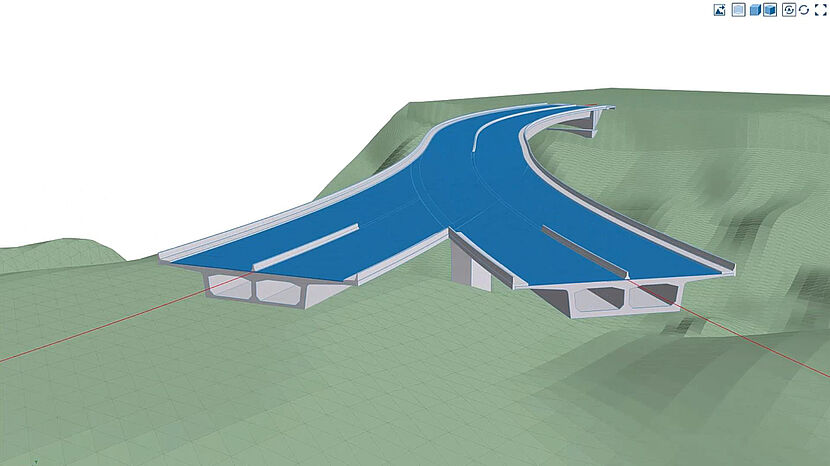 Free Parametric modeling 2.0
Powerful, flexible and time saving modeling
In Allplan Bridge there are three main modeling methods. The initial approach uses the 3D form of the axis for extrusion of a cross-section to create an exact geometry. However, in bridge structures, as there are often elements which do not follow the axis, such as precast girders, a further modeling approach especially tailored for these bridge elements was required and implemented in one of the previous versions.
In version 2023 a third modeling approach was released - Free Parametric modeling. With version 2024 this modeling approach is significantly enhanced and is becoming even more powerful, because it is extended in such a way that any modeling element in Allplan Bridge, such as a girder, pier, link girder, or deck, can be extracted into a 3D body and used freely. The model remains fully parametric, as the extracted body seamlessly adapts to any change. Furthermore, the extracted body can be utilized for Boolean operations, employed as a template, and freely moved within the modeling space.
A further improvement, regarding free parametric modeling, is the usage of more prism elements in one prism template and combining them using Boolean operations. This enables the creation of more intricate objects such as abutments as templates which can be easily placed and positioned multiple times in one bridge model and can be easily exported and used in other projects.
Body Containers is another powerful improvement. It is a novel type of object that operates within its own local coordinate system. Within this system, users can position 3D docking points with varying relationships to the container origin which allow for placing 3D bodies. Body Containers have the capability to accommodate multiple body groups, further enhancing the modeling workflow and facilitating the inclusion of even more complex objects.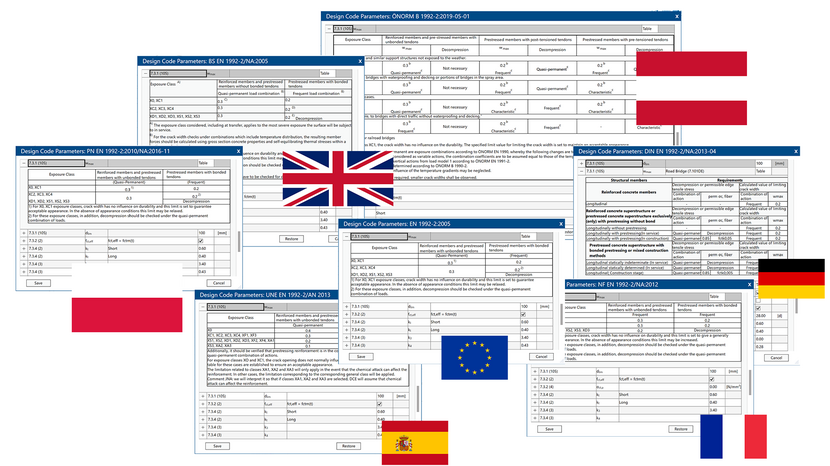 Further national annexes to EN
Easily design to key national standards
Development of the latest version of Allplan Bridge in a code-based design module has been focused on the introduction of three new national annexes and their specifics. The implementation of the latest valid version of national annexes is now available for Germany (DIN EN), France (NF EN), Spain (UNE EN), the UK (BS EN), Austria (ÖNORM EN), and Poland (PN EN). All limit states are now covered by annex-specific limit values or methods and are also referenced in the reports.
Allplan Bridge Reporting Tool
Revolutionize the reporting process
Allplan Bridge 2024 connects two worlds into one and with this revolutionizes the reporting process by offering a range of powerful features that enhance efficiency, accuracy, and visual impact. Bridge design and analysis data in the form of tables, images, 2D and 3D diagrams, and much more, can be easily linked and positioned directly into MS Word documents. This eliminates the need for manual data entry and updates, saving time and reducing the risk of errors.
The drag and drop system ensures the seamless integration of data into user-defined reports. The established link ensures that all data is up to date. Any changes made in an Allplan Bridge project, such as modifications to design elements, calculations, diagrams, images, tables, and design snippets, are automatically reflected in the structural report. This real-time update feature eliminates the need for manual updates, ensuring accuracy and saving valuable time. Furthermore, a post database is provided allowing users to store and filter relevant results. This allows for quick access and analysis of important data. It is possible to create custom queries, apply filters, and sort through extensive data to generate tailored tables.
Key benefits of the Reporting Tool:
MS Word AddIn - using the tool everyone is used to work with
Dynamic Data-Link (Parametric)
Real-Time Update
Customizable tables using post-database
Comprehensive support for Visuals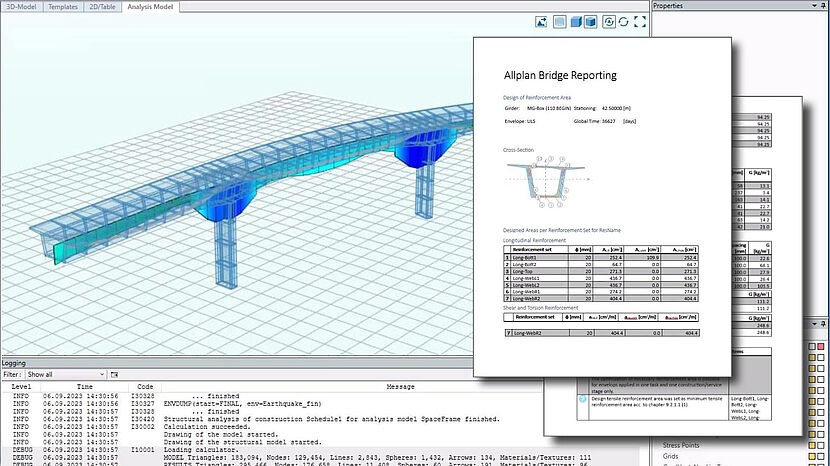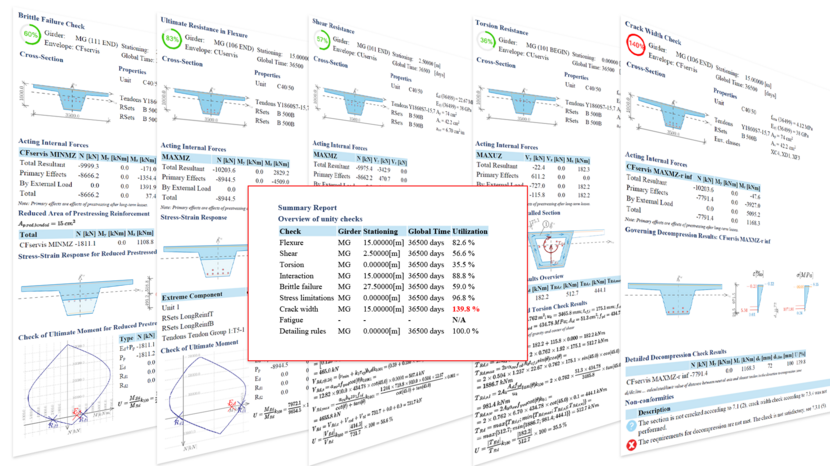 Summary Report
Automatic summary of the design and code checking
The extensive output capabilities of reinforcement design and code checking procedures are extended by a new type. The so-called "Summary Report" gives an overview of the governing results of the code design and checks. Allplan Bridge 2024 runs the code checks with the appropriate result names. For each section, the results are saved and subsequently, the governing results are filtered in a loop for all result names and all sections. Then the governing sections and results and sorted, extremes are found, overview tables are generated, and the detailed results are nested into the summary report.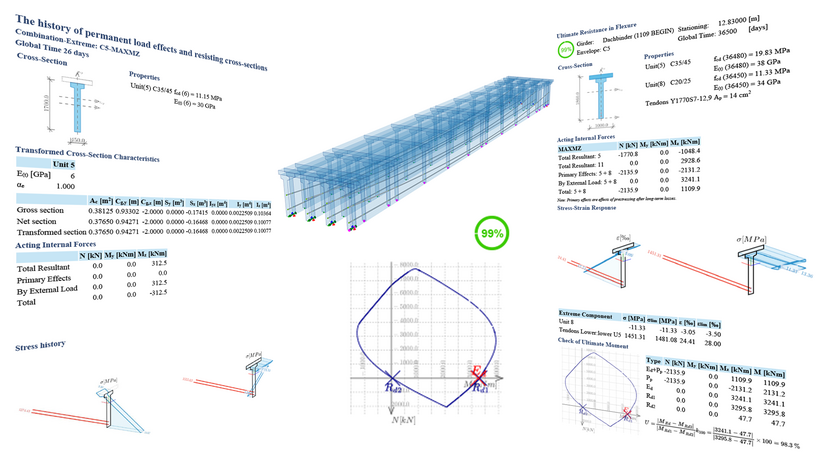 New code-based design features
Extending Design and Checking procedures for composite sections
In addition to the global analysis of composite structures also the design module was enhanced with code assessment of composite concrete-to-concrete cross-sections. The cross-section may consist of a post-tensioned structural unit and a concrete slab cast at a later stage of construction. Any stress state of the cross-section can be analyzed during the construction and service stages. Above that the checks of the ultimate and serviceability states can be carried out in accordance with the applicable standards. The assessment also includes an evaluation of the stresses at the interface between the old and new concrete and the check of the reinforcement capacity in the joint.